Hey everybody! Before I start on the list, I have two quick things to tell you:  First of all, some of you may have noticed by now that my new blog design is up!  It's currently still under construction and we're working out the kinks – I hope to have it perfected by next week!  Second, I didn't realize that the results I wrote about in my last post were going to take 3 whole days to come back, so I won't know until tomorrow or Monday!  Ahhhh!  I really appreciate those of you who prayed, though.  Okay, well, on to the party!
This is Melissa's 2nd year hosting the party, and last year I got some great ideas on fun new products to try! The idea is objects you can go and buy; clearly I do not value my face cream more than my husband and son. :) 
Here's my list, in no important order! :)
1.  Crazy Richards Peanut Butter and Stonyfield Farms Organic After Dark Frozen Yogurt
           
I know I haven't posted a lot about clean eating lately, but let me tell you, these are two STAPLES in my house!  I have tried a TON of natural peanut butters, and believe me when I tell you that is one is by far the best.  I haven't been able to find it here in CT, so I have to buy it in bulk when I go to PA!  It.is.awesome. and totally worth looking into. 
As far as Stonyfield goes, you know I try not to eat a lot of sugar, but I do make an exception for this frozen yogurt.  On a normal day, I really try not to eat sugar in any other item besides fruit, milk products, a little honey, and maybe this.  It is so, so creamy, and it honestly doesn't have that usual frozen yogurt aftertaste.  I highly recommend it! 
2.  St. Ives Timeless Skin Facial Moisturizer.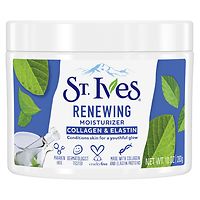 I bought this a few weeks ago when Rite Aid was having a sale on it: buy it for $3.99, get $3 refund back.  The thing I like most about it is that it's paraben- and phthalate-free.  I've been reading more and more about those chemicals, and they scare me – especially for something that's going to sit on my face all night long!  This is light and fresh feeling, and I'm pretty sure it's going to last me until I have grandchildren. 
3.  Thrift Stores
Really, do I need to say more?! I think my love of thrifting has been well-established here! :)
4. Target Girls' Tall Brown Boots
I posted about my Target kids' boots find recently, and I honestly think they're my favorite finds of the season.  They're comfy, cute, and SUPER AFFORDABLE!  Totally great. 
5.  Starbuck's Salted Caramel Hot Cocoa. 
Again, I've already posted about this drink, but I can't sing its sweet-salty little praises enough.  I've had a cold all week, but if I feel well enough tonight, Chris and I are going to Starbucks to get drinks and then finish picking out our Operation Christmas child presents together.  Mmmmmmmmm.
6.  Lovely by Sarah Jessica Parker
I've been wearing this perfume for a while now, and it has really grown on me.  I really have no idea how to describe a perfume to you, but it smells really pretty and….mature.  lol (Doesn't it kill you in magazines when they're trying to review a perfume and they're like, "it has notes of jasmine and wild rose wood, with a hint of citrus and saffron."  Ohhhhh, clearly I can smell it in my head now!!)
7.  The Family Stone and The Notebook
Rachel McAdams is one of my all-time favorite actresses, and two of her movies rank up there as some of my favorites.  I love The Family Stone for so many reasons – it makes me cry and laugh, which pretty much guarantees I'm going to love a movie -  but mainly because I want a big family and a big old beautiful rambling New England house like that one someday.  It's one of my most favorite holiday movies. 
Oh, and The Notebook…….again, enough said. :)
Well, I think that does it for me!  I can't think of anything else at the moment; I'm sure that will change the moment I hit "Publish." Of course, my favorite things from last year's party are all still things that I enjoy, so feel free to check that out if you'd like.  (Does that make me boring or just consistent?  lol)
320 Sycamore is one of my MOST favorite blogs – be sure to check her out!