1. Rumbles
The road my parents live on got pretty messed up in some flooding last year and there is currently a roadwork crew digging it up to try to repair it. Everything in our house is vibrating – including my butt. :) People who live in California, you have a new level of sympathy from me. I do not like feeling the house shake beneath me!
2. Sugar 'n' Spice

The first "official" day of fall is this Thursday, which also means I'll be baking my pumpkin chocolate chip mini breads. All I do is take a Pillsbury pumpkin-bread mix, make it as directed, and then add chocolate chips to it and put it in mini bread loaves. They are ridiculously fabulous and easy and I will be looking forward to them all week. This is what happens when you are a stay-at-home-mom who is watching her calories. lol
3. Anticipation
Thursday also happens to be the resumption (?) of one of my most-looked-forward to shows. The show shall remain nameless, since as a good Christian girl I'm a little ashamed, but I just can't stop myself from watching! Plus, I figure that it you know what I'm talking about, you probably watch it too and therefore aren't judging. haha!
4. Lots of love
I taught Luke to blow kisses this past week. Although his version involves making the kissy sound and holding his hand to his mouth. (In other words, he kisses himself and doesn't give any away. haha) I think it is the cutest thing ever! I love watching his little mind put things together!
5. Random poll
Do you have trouble sleeping if there are lights or noise in the room? If so, are you a firstborn? As the firstborn in my family, I can't sleep if there are lights or noise, which is why I always have an eye mask and earplugs handy by my bed. Luke is also very sensitive to noise when he sleeps (although he's getting better), which has started my family on this discussion that parents are super quiet when their first babies are sleeping, which leads them to be sensitive sleepers as adults, as well. I never need sleeping pills or anything – and once I'm asleep, I sleep really, really well. So I'm curious – do you think your sleep is related to your birth order??
That's all for today – have a great Monday and be sure to visit Carissa's blog for more random thoughts! :)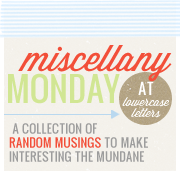 Image credit: cookwomanfood.com